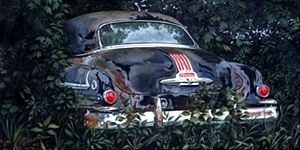 51 Pontiac
This classic has been in hiding for a long time.

Fantastic Four
31 Cadillac, 31 Chrysler, 32 Duesenberg, 33 Packard on a magic carpet ride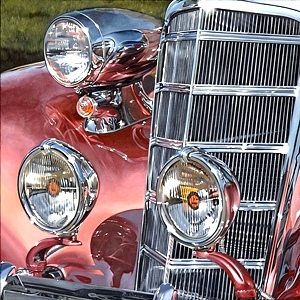 1937 Cadillac
"Blushing Caddy" is just delicious!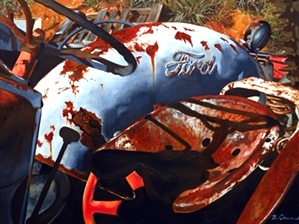 Vintage Ford Tractor
"Retired, Not Expired" takes the sweat and hard work out of the farm, putting it into fine art.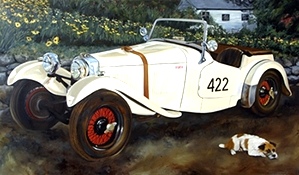 1953 HRG, British Roadster
One of only 241 manufactured.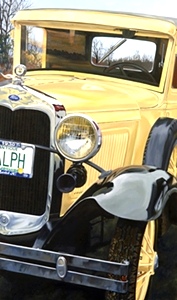 1930 Model A Ford
Surprisingly small, "Ralph" was a fun vehicle to ride in!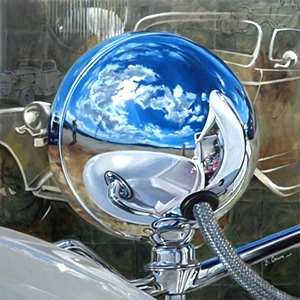 1932 Ford
"Altered Attitude" presents an unusual view...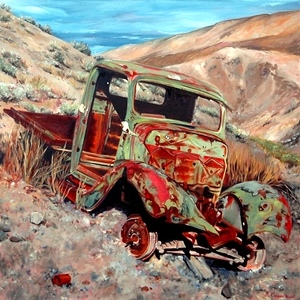 Free Parking
Check out the tine can...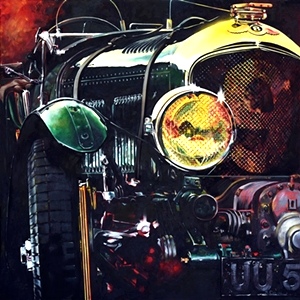 Bentley Racer #9
Historic Bentley Racer #9 is being shown on metal in several new Bentley dealerships in the USA.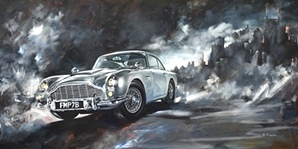 Aston Martin DB5
My version of James Bond's Aston Martin made the owner of the painting very happy!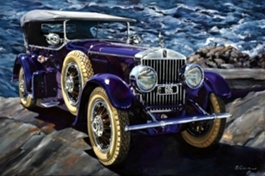 Fatty, 1919 Pierce Arrow
Beautiful deep purple Pierce Arrow sitting in front of Nubble Lighthouse in Maine.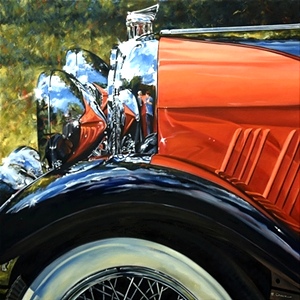 Orange is the New Black | 1928 Auburn Speedster
1928 Auburn Speedster in orange just sparkles in the sunshine!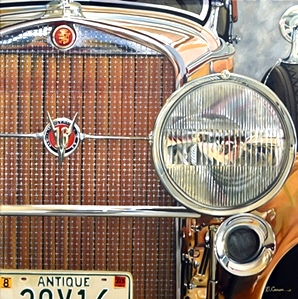 Gold Digger
Gold Digger is a 1930 Cadillac burnished into your imagination by Bobbie's brushes.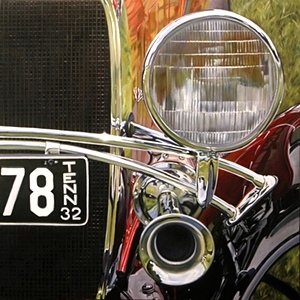 32 Chevy Roadster
This 32 Chevy is probably prettier than when it was brand new.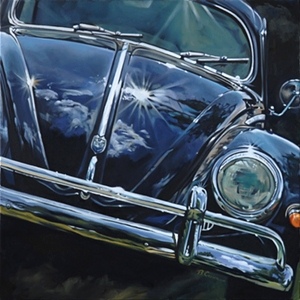 California Dreamin'
What a fun little car the German manufacturer, Volkswagen, created!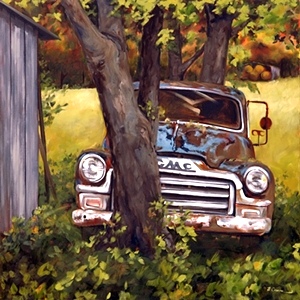 GMC Truck
Old truck out in the country sitting pretty.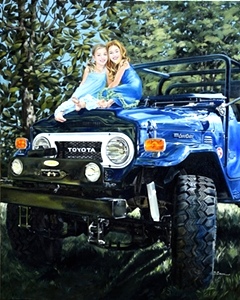 77 Toyota and Girls
Painted as a surprise for the client's husband and father of the girls.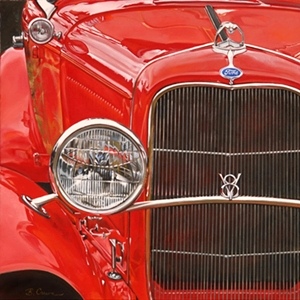 Little Deuce Coupe
Lipstick Red...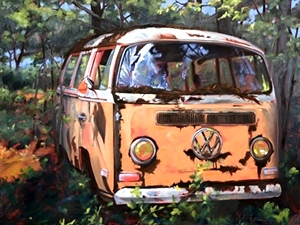 Magic Bus
Every day I get in the queue (Too much, the Magic Bus) by the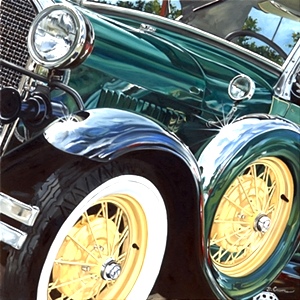 Henry's Vision
An original 1929Ford Model A, Henry Ford had a good idea going.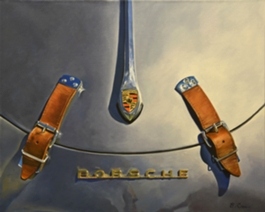 Leather straps on a Porsche
Zoomed in on the warmth of leather and the excitement of an iconic sports car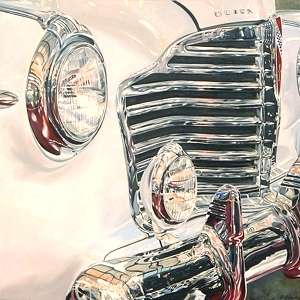 41 Buick,
All the gliltter of lights and bling reflect in her curves.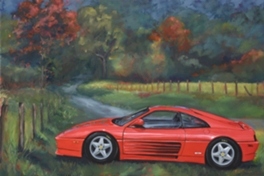 92 Ferrrai
Full side view of a very special Ferrari, only 100 built.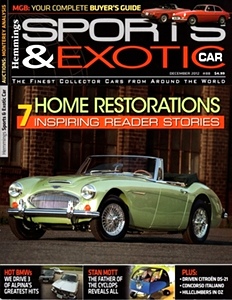 Hemming's Sports and Exotic Car Magazine
December 2012 Issue of Hemming's Sports and Exotic Car Magazine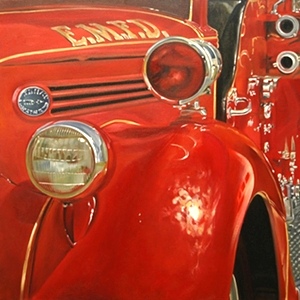 1937 Fire Engine
Red Hot Rire Engine.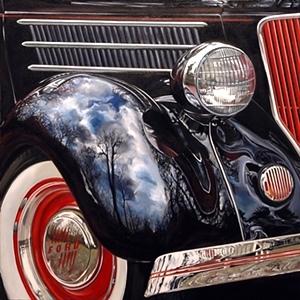 1936 Ford Roadster, "Frida"
Frida has been a favorite of many car collectors.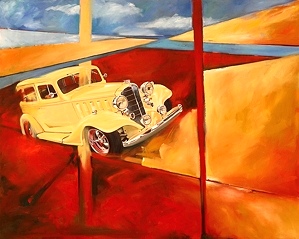 1933 Buick
Shanghai slices through the paint like butter.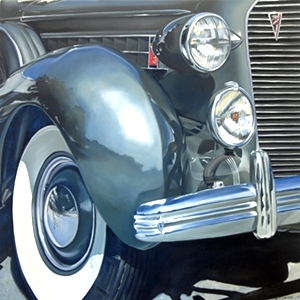 1936 Cadillac Fleetwood
First in a series of intimate portraits of automobiles is the 36 Caddy.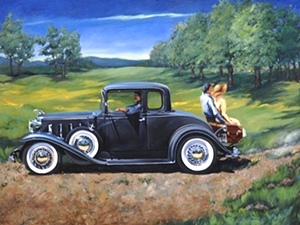 1932 Chevy Coupe
"Hitchin' a Ride captures a simpler moment in time.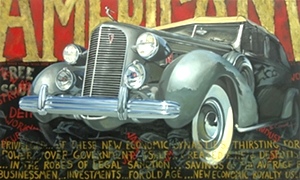 1936 Cadillac
"American Way" was built in the middle of the Great Depression.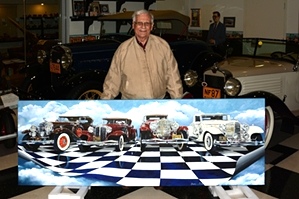 Calvin High's Classic Car painting
"Fantastic Four" was presented to a happy Mr. High in his showroom.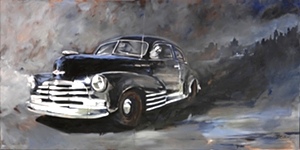 1947 Chevy Fleetline
"The Getaway" looking dangerous...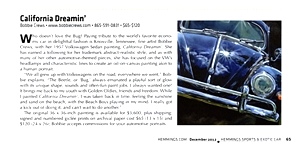 California Dreamin'
1957 Volkwagen Beetle painting displayed in Hemming's Sports and Exotic Car Magazine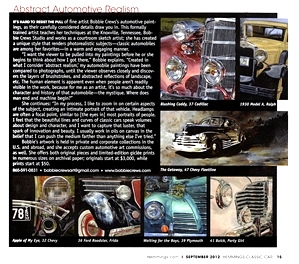 Abstract Automotive Realism
"...hard to resist the pull of Bobbie Crews's paintings..."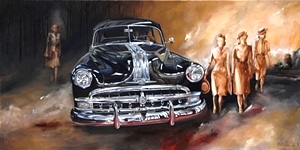 51 Pontiac, "Secret City"
Telling stories of the Secret City of Oak Ridge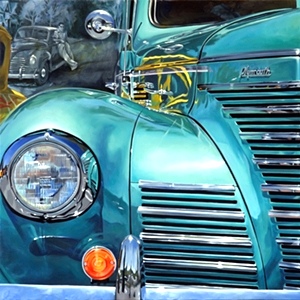 1939 Plymouth
"Waiting for the Boys" celebrates endless summer days and cool nights.